Karachai-Cherkesia is distinguished as a region with a positive dynamics of fire protection in fire-risk season of 2010
Added on 24/02/2011 16:51

Nizhnij Arkhyz, the astronemers' village. Photo from the site by President and Government of Karachai-Cherkesia Republic.
Click figure to go to the site.
Citing of the official site by KChR President and Government press service and information administration kchr.info is obligatory.


Fire on Mitseshta hills in 2009 October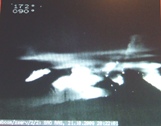 Fire in Arkhyz gorge in 2007 May
Fire on Mitseshta hills in 2007 March was stopped.
Crowning fire on the SAO upper observational area in 2001 and its consequences.